5 traditional Portuguese delicacies
Portugal is well-known for its gastronomy. With a wide range of traditional dishes, made with meat, fish, seafood. The variety will satisfy the most demanding of palates. From North to South and on the Islands (Madeira and Azores), you'll find typical delicacies that will make your mouth water and make you believe you have found gastronomical heaven.
Lets us take you on a gastronomical journey and learn more about some of our most exquisite dishes and their history.
Alheiras de Mirandela – Trás-os-Montes
Alheiras look much like sausages. Or 'chouriços'. But they're not either. This sausage look-alikes date back to the 16th century, when the Inquisition was instituted in Portugal and Jews started to be persecuted and burnt alive on the pyre,
The Inquisition believed that Jews could influence the converted Jews to go back to their original belief and so they were persecuted by the inquisitors. Soon, all Jews (converted or not) were being held captive and burnt alive in public pyres.
In order to (try to) escape the hunt, Jews started to create communities where they would imitate Christian rituals and traditions, live safely and survive the Inquisition.
One thing that gave away Jews to the inquisitors was the fact that they didn't eat pork meat. Sausages were part of the Portuguese diet, made essentially from pork meat.
The Jewish community came up with a simple plan: sausages from a mix of bread and chicken and use spices to color them like the average pork meat sausage. And there you have it: the Alheira was born!
Nowadays, it 's one of the traditional dishes in Portugal and it's a crowd pleaser. Served with french fries, white rice, and a fried egg. You can find all types of 'alheira': pork meat, chicken, game meat and vegan.

They are really easy to cook. Get a fork, pierce them and then you can either fry them or put them in the oven. Either way, they are absolutely delicious!
Tripas à moda do Porto – Porto
Beef tripe, honeycomb tripe, pocket tripe. 'Chouriço', smoked ham, cured sausage. Pork foot, neat's foot. Chicken.
These are the types of meat needed to cook one of Porto's most traditional dishes. Don't be fooled by the ingredients. This is a local delicacy!
Along with 'francesinha', Tripe is the official dish from Porto. Yes, we know it might sound weird (and also a little nauseating) the thought of eating tripe. We need to go back to the 15th century to find when and where this delicacy started to be part of our daily lives.
Let us tell you the story behind this unexpected dish and assure you that they are very well washed!
When the Portuguese King Infante D.Henrique was preparing his ships to sail to Ceuta, there was a feeling of effort and sacrifice in Porto. The population realized they had to support the sailors, departing to Africa, an unknown territory. So, the city inhabitants decided to give all the good meat to the sailors and keep the guts.
The fleet left and the population had to learn how to cook the tripes. First of all, they were (and still are) washed with water and salt. Times and times again, until they are clean and disinfected. Then, they are cooked.
panel of tiles at Porto´s – São Bento railway station depicting Prince Henry the Navigator during the conquest of Ceuta
The original recipe lost itself in time and new ingredients were added. It was first cooked as a stew, served in a slice of bread. As new vegetables and legumens entered the diet of European populations, new ingredients were added to the stew. Beans are a good example.
Tripe is usually served in Porto´s restaurants on Thursday. There's also a legend associated with this: the 'tripeiras' (tripe saleswomen) had to pay their weekly quotas on Thursday. Another explanation is that housewives used to buy tripe to cook during the weekend and serve them on family meals, as this is a very heavy and abundant dish.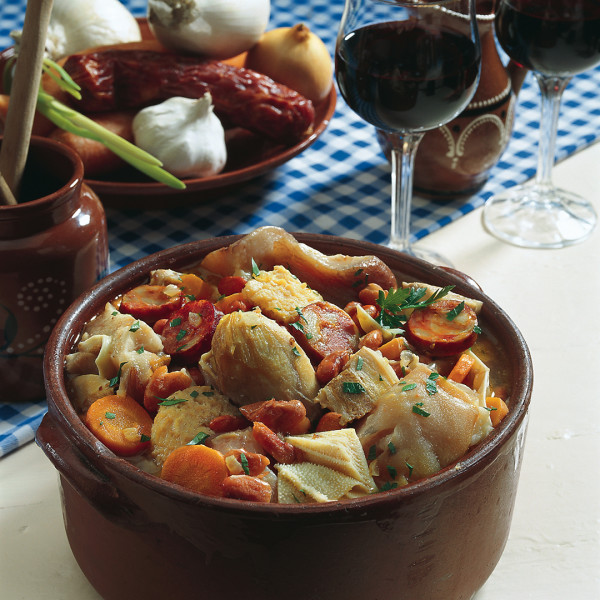 We recommend you try it. It's a unique dish, filled with flavor and different textures. If you're not sure you'll be able to eat the tripe, put it aside and eat the rest. The sauce and the mix of beans and rice are to die for!
Lampreia – North and Lisbon
Lamprey. That snake-like fish that looks like a character from a horror movie. By now you must be thinking: why on earth do the Portuguese eat these things?! Tripe, lamprey… Well, lamprey has been appreciated as a delicacy since the Roman era. It's not really our fault!
There are two traditional recipes of lamprey: lamprey rice and "Bordeaux" lamprey. Lamprey rice is cooked with wine and fish blood. You add the rice and let it cook.
"Bordeaux" lamprey is based on a recipe from the French region of Bordeaux but the French wine and the leek have been replaced for Portuguese green wine (white or red) and onions. This stew is served with white rice and bread toasts.
This exquisite dish is served only from February to April, as the lamprey is a sea fish but goes to up the rivers for spawning. Cities along the Minho and Douro rivers and also the Tagus river are the best places to enjoy this delicacy.

Viana do Castelo, Esposende, Ponte de Lima – in the North – are well worth the visit. For the gastronomic experience and because they are beautiful cities. Further South, Coimbra is also a good destination.
Açorda Alentejana – Alentejo Region
One of the simplest yet most delicious dishes in Portuguese gastronomy. Boiled water, salt, olive oil, garlic, pennyroyal, coriander, eggs, and bread. These are the ingredients for the traditional broth from the Alentejo region.
This was the basic meal of the peasants. Easy to make for the men who were out with the flocks. They would carry the bread in their bag (the bread could be a day old) and slice it and mix the herbs and olive oil and the boiling water.
It's really easy to make. The secret is in the ingredients! Good quality olive oil – you can find plenty of it in Portugal! – local herbs (pennyroyal and coriander), regional bread – Alentejo's bread is different from all other recipes in Portugal – and eggs.
Mash the herbs, salt, and garlic together until you obtain a thick paste. Boil the water and poach the eggs aside. Mix the boiling water with the paste. Let it infuse. Season with salt and add olive oil. Let it set. On a plate, put a thick slice of bread at the bottom. Pour the stock in and then add the egg. Enjoy!
For the whole experience, visit the Alentejo region and discover the Portuguese plains and gastronomy. You will be delighted. One of the most peaceful and quiet places on earth!
Espetada da Madeira – Madeira
The secret for this skewer is laurel stick. Beef cooked in laurel stick. That's it. Ok, you need tender and succulent beef. Two little secrets! This used to be served only in fairs and pilgrimages. In the 50s it finally made its way to restaurants.
Traditionally the skewer would be served with homemade bread but it soon evolved and it is now served with fried corn and 'bolo do caco' (a flat, circular cake-like bread, traditionally cooked on a flat basalt stone slab, typical in Madeira).

You can find the skewers in most restaurants in Madeira. Our advice is: try them in local fairs and pilgrimages. Or find the small restaurants where locals go! Well, we can actually give you a hand on that!
Food and history walk side by side in Portugal. If you want to visit our country and experience the best gastronomy and wines, we can take you to the perfect places!
Check our experiences for a unique vacation in Portugal!